"You see the happiness in them, they can walk again"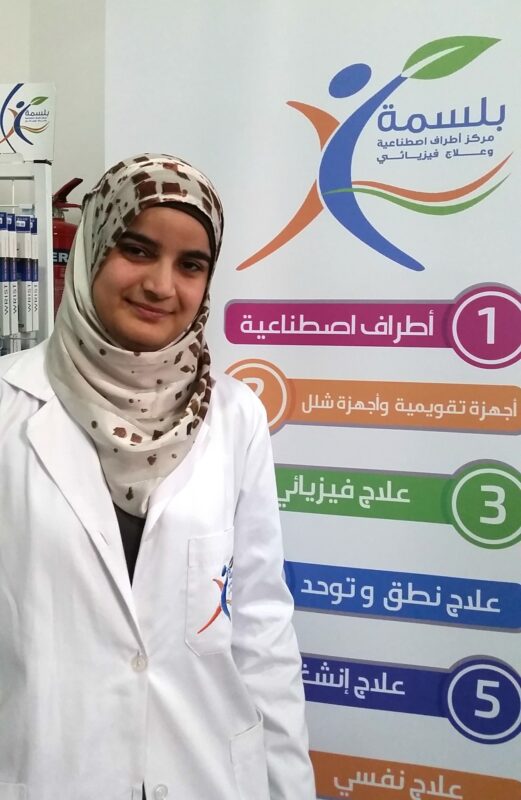 Iman is a 25 year-old Palestinian woman, who works as an assistant and accountant at the Balsama Centre in Saida, southern Lebanon. The Centre was founded in 2013 and supports the most vulnerable with disabilities and impairments. Iman studied Management and Accounting at university and now lives in Jadra, about a 15 minute car drive from the Centre.
Iman spoke about her daily tasks which include booking patient appointments, dealing with emails and writing daily reports on patient progress. She also orders materials for prosthetic limbs as well as managing the Centre's social media and preparing lectures.
Iman explained that the Centre is made of departments consisting of artificial limbs (manufactured in the Centre and is also the biggest department), physiotherapy, speech therapy, occupational therapy, psychiatry and nutritionists. The patients are made up of 40% Syrians, 40% Palestinians and 20% Lebanese.
Costs at the Centre are subsidised and in order to make it more affordable for people who are most vulnerable. For example, the price for prosthetic lower limbs would cost $2,000 in a Lebanese health centre/hospital. This is reduced to $1,200 at the Centre, which is a level set by the Lebanese Ministry of Health.
Iman explained that the majority of injuries they treat are those from the war in Syria. She went on to explain that so many of the patients' stories sadden her a great deal, especially those affecting girls. Girls often feel like their lives have stopped due to their injuries and find it very difficult to deal with their new life ahead of them.
However, Iman did express her delight at patients coming to the Centre, "You see the happiness in them, they can walk again".
If you'd like to support our work with the Balsama Centre, please make a donation towards our Social Welfare Fund. Thank you.
Calculate your Zakat
Confused about how to calculate your Zakat? Try our simple-to-use calculator