Palestinian engineer brings affordable biogas technology into every home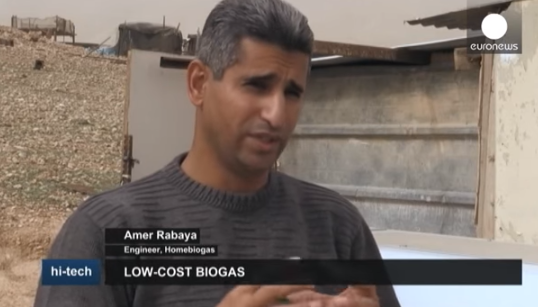 It can be difficult for Palestinian communities to secure dependable supplies of energy for cooking and lighting. Palestinian engineer, Amer Rabaya, thought about this problem and invented a machine that uses organic waste to produce cooking gas for homes.
Making gas from waste products is not something new, but until now machines have been large, expensive and difficult to build and supply. This biogas machine costs a little over 500 euros, comes in a small box in kit form and can be assembled at home.
Biogas is smokeless and has no smell. A user of the new fuel said:
When we cooked before it made a lot of smoke. It smelt bad and it could be dangerous, because when it rained we had to make the fires indoors. And it took a lot of time. Now we have a flame when we want it, all you need is a little  spark.

100 homes are already benefiting from the technology in the West Bank and 40 machines have also been installed in the remote Palestinian village of Al-Awja in the Jordan valley.
Calculate your Zakat
Confused about how to calculate your Zakat? Try our simple-to-use calculator