Gaza Blackout: How you can help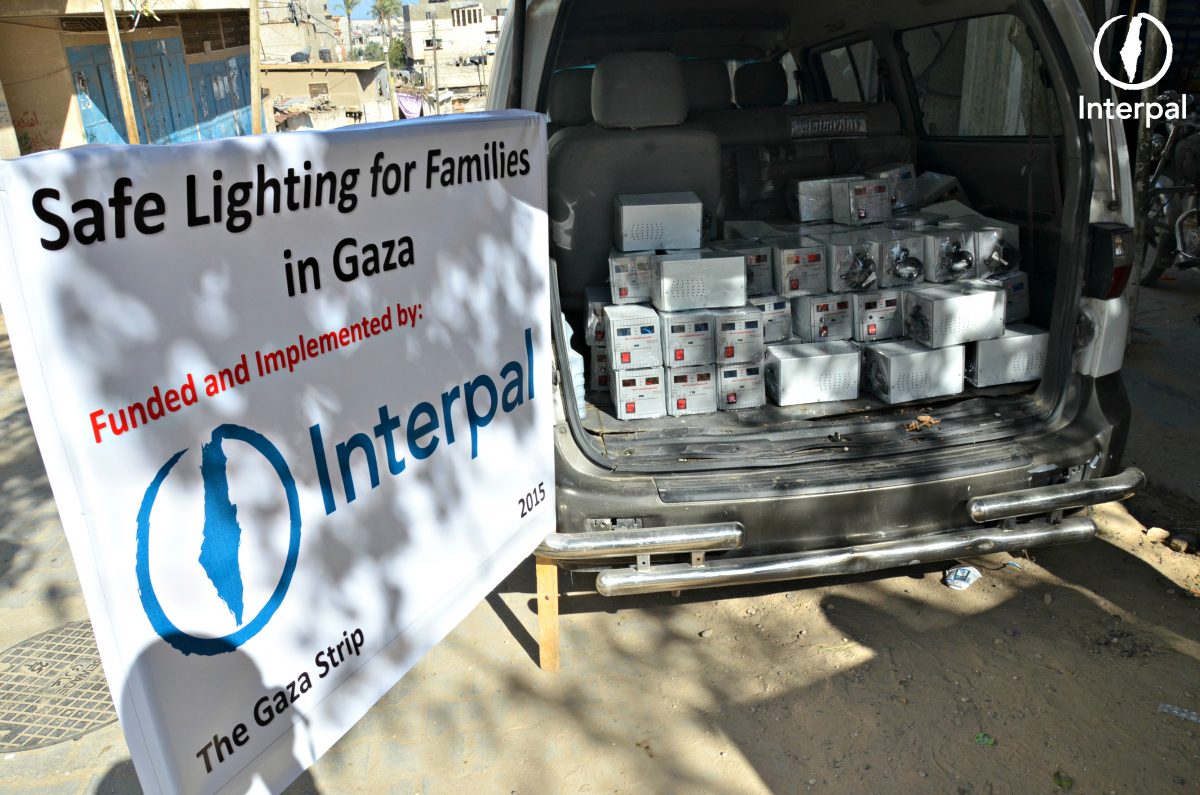 Gaza's sole power plant was shut down on Wednesday due to a severe shortage in fuel, leaving its 2 million residents under complete blackouts for more than 30 hours at a time. The Gaza Strip requires 500 megawatts of power a day to keep its infrastructure and public health sector functioning. With 70 megawatts available since the diesel power plant shut down, thousands of lives- including hospital patients and babies on life support- are now at immediate risk.
The Gaza Strip has been experiencing a power crisis for a number of years, with its residents usually experiencing power cuts for up to 18 hours a day. Interpal works on the ground in Gaza to help families overcome some of the many burdens they face during a blackout. With the current situation at breaking point, we need your support to reach families in desperate need.
4 ways you can help Gaza families during a blackout
Safely light up homes
During a blackout, thousands of families resort to using oil lighting and open-flame candles to light up their homes. These lighting methods can often cause accidents, many of which have been fatal. Incidents resulting from electricity failures have claimed the lives of more than 26 people, almost all of which have been children.
As part of our Safe Lighting Project, Interpal provides families with safe-to-use lanterns to mitigate the risks the families face during a blackout. You can help to safely light a family's home by clicking here.
Provide food items
The lack of gas and electricity leaves families unable to cook and bake food. Shops and bakeries are unable to provide cooked goods, and cannot use refrigerators to preserve food, which severely affects supplies. Families often resort to eating uncooked food and raw vegetables, with many not able to afford to stock-pile non-perishable food items for long-term use.
Interpal provides families with food vouchers and food parcels that last up to one month, enabling families to buy themselves what they need to prepare themselves for the blackouts. To provide a family with a month's worth of food, click here.
Provide clean, safe drinking water
The majority of households in Gaza rely on electricity and fuel to pump water to rooftop tanks. An insufficient supply of electricity and fuel to operate water pumps means that no running water is available. Taking a shower or cleaning houses is impossible. This means that poverty-stricken families are often forced to either buy overpriced water or drink contaminated water.
Interpal provides clean, safe drinking water to thousands of families in Gaza every year. Click here to help a family gain access to clean water.
Provide medical equipment to hospitals
Hospitals in the Gaza Strip rely on ageing generators to keep facilities running.  Even before this latest crisis, the waiting time for some types of elective surgery would extend up to 18 months, with hospitals being forced to cancel operations in order to keep life support facilities running. With sterilisation and cleaning services also reduced, hospitals are forced to re-use items, putting patients at risk of infection. Hospitals are overwhelmed and at breaking point.
Interpal supports hospitals and health clinics across the Gaza Strip by providing urgent medical equipment. To donate to our Medical Aid Fund, click here.
For more information about all of our projects, and other ways we are helping in the field, call us on 020 8961 9993 or visit www.interpal.org.
Calculate your Zakat
Confused about how to calculate your Zakat? Try our simple-to-use calculator