Life on hold: living with a disability in Gaza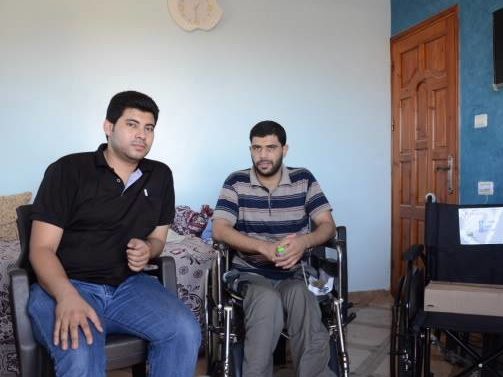 Palestinian children and young adults with disabilities face barriers to movement, education, healthcare and employment, increasing their vulnerability and their isolation from society as a whole. While families and communities play an important role in tackling the barriers they face, high levels of poverty brought on by the ongoing occupation and siege make it difficult to provide the right support.
More than 1000 children were left with lifelong disabilities following the assault on Gaza known as "Operation Protective Edge" in 2014. More recently, over 2,000 Palestinian children have been wounded by Israeli soldiers since the Great March of Return protests began on 30 March. Many face lifelong disabilities as a result of life-changing injuries, in large part due to Israel's indiscriminate use of the so-called "butterfly bullet", which explodes on impact, causing severe internal damage to its targets.
The siege on Gaza and the poverty faced by thousands across the Gaza Strip have meant that many types of ongoing specialist treatments are unobtainable for a large proportion of patients.
Interpal's Medical Aid programmes support a variety of interventions, regularly funding equipment for hospitals and clinics across all its areas of operation. Interpal also subsidises medical fees for children suffering from long term disabilities and rare genetic diseases. Supporting these special needs helps to provide a lifeline of support to thousands of struggling families unable to afford the medical treatment they desperately need.
To support our Medical Aid programmes, please give us a call on 020 8961 9993 or visit www.interpal.org
Be a lifeline #ForPalestine
Calculate your Zakat
Confused about how to calculate your Zakat? Try our simple-to-use calculator