Pipe Up for Water Equality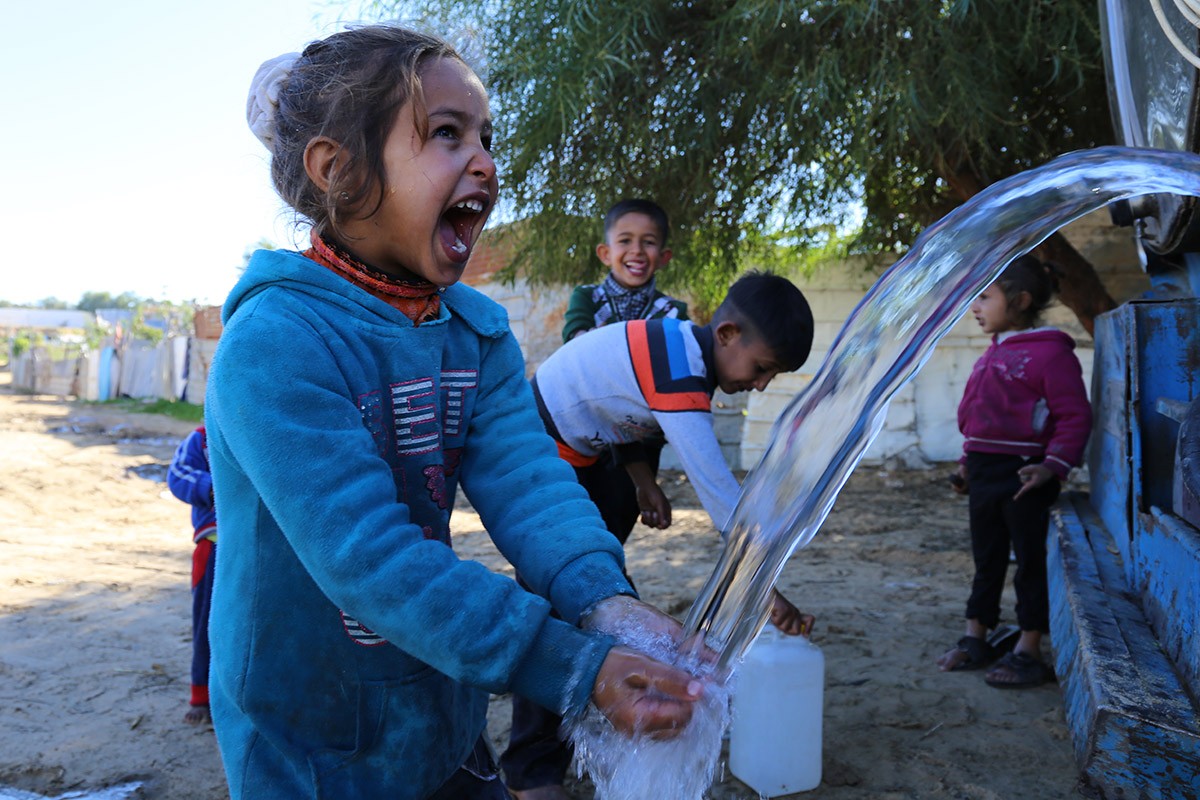 Israel has maintained exclusive control of Palestinian water resources since 1967, depriving Palestinians of access to clean and safe water-one of the most basic of human rights. The water crisis in Palestine deepens poverty and is costing lives. It's time to pipe up.
THE FACTS
The West Bank
Palestinians in the West Bank are denied access to the Jordan River Basin and only have access to 13 percent of the West Bank's Mountain Aquifer. The rest is diverted to Israel and Israeli settlers in the West Bank.
With Palestinians forbidden from using their own water infrastructure, they depend on Israel for allocations, receiving as little as 73 litres per person per day. In contrast, Israeli settlers in the West Bank receive over 300 litres per person per day.
Water supplies are often cut off by Israel for weeks at a time, and vulnerable families are frequently forced to buy water from Israel at extortionate prices.
The Gaza Strip
The ten- year blockade on Gaza restricts the import of materials that residents urgently need to repair their water network, which has been damaged by numerous Israeli assaults.
Gaza's only source of ground water is contaminated by sewage, chemicals and seawater. Right now, more than 95% of water is unfit for use and this number is predicted to reach 100% by 2020. If it does, the damage would be irreversible.
8 million Palestinians in Gaza face severe health risks every day as they consume water polluted with nitrates and chloride. One quarter of all childhood and infant illnesses in Gaza is caused by waterborne diseases.
Palestinian refugee camps in Jordan and Lebanon
Palestinian refugee camps across Lebanon and Jordan do not have the relevant infrastructure for adequate water networks. Water is often too salty and polluted for daily use, with impoverished families forced to rely on expensive bottled water.
Informal refugee camps, or 'gatherings' often have no water infrastructure and this means families can't access the adequate amounts of water needed and are susceptible to ill health, poor hygiene and poor sanitation.
The recent influx of Syrian refugees has put additional pressure on the camps' existing water supply sources and networks, sewerage and drainage systems, as well as operations related to the camps' solid waste management.
Under international law, Israel has an obligation as an occupying power to provide basic services to Palestinians, including water and sanitation. Not only does Israel fail to do this, it deliberately deprives Palestinians of this right.
PIPE UP FOR WATER EQUALITY: TAKE ACTION NOW
We are asking on all our supporters to urge Penny Mourdant MP, Secretary of State for International Development, to ensure all measures are taken by the Israeli government to facilitate the access of clean drinking water in the occupied Palestinian territories.
What are you waiting for? 
DONATE NOW
 For 24 years, Interpal has been working to ensure that Palestinians can achieve their human right of access to clean water.
Donating to our water projects can help ensure thousands of Palestinian families have access to clean water and sanitation. To learn more about our Water Aid packages, give us a call on 020 8961 9993 or visit interpal.org 
News and updates from our campaigns, projects and from Palestine.
Support Palestine
How do you want to support Palestine?