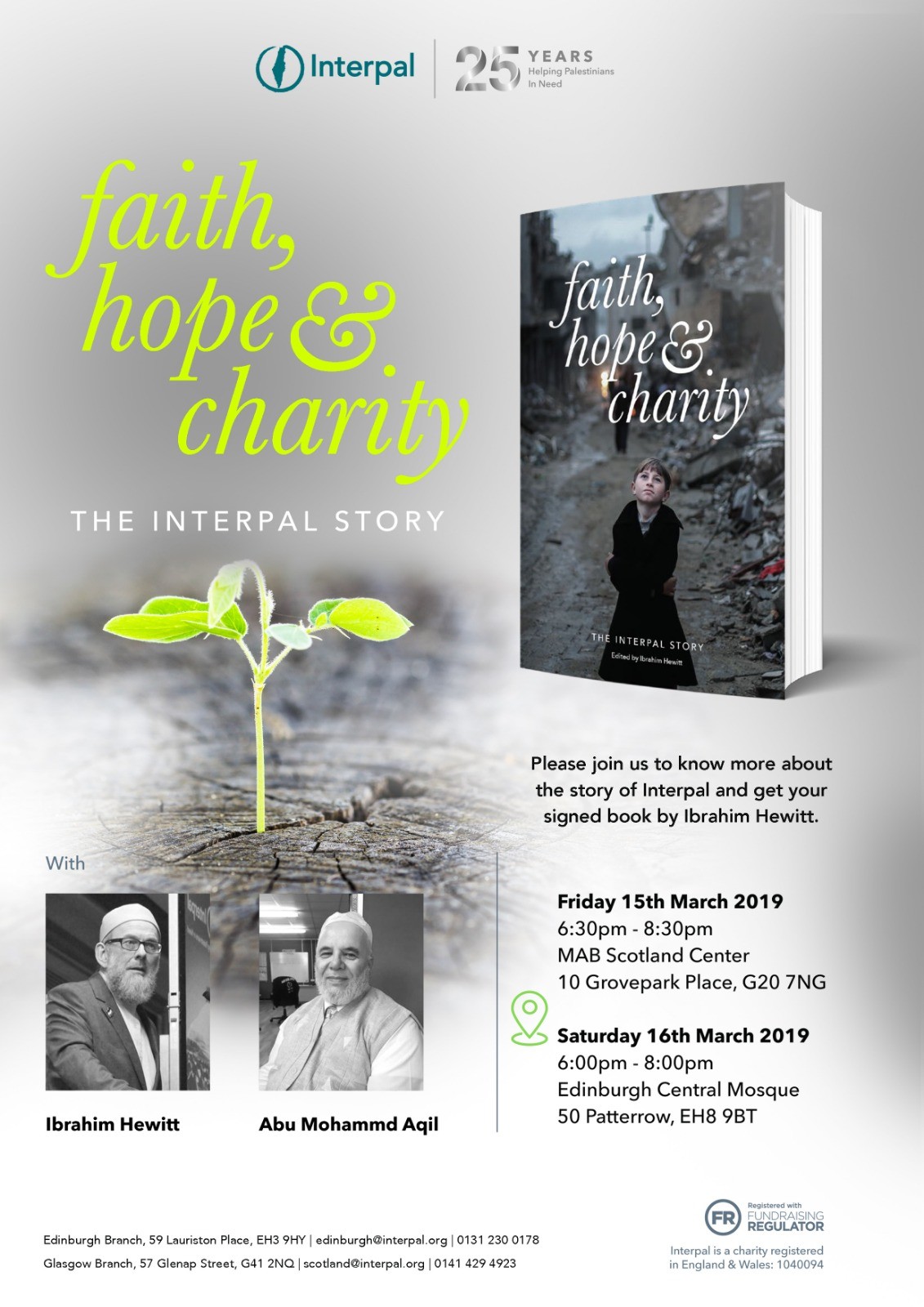 Date/Time
16
th
March 2019 - 16
th
March 2019
6:00 pm - 8:00 pm
Venue
Edinburgh Central Mosque
50 Patterow
Edinburgh , EH8 9BT

Organised by: Interpal Edinburgh
Faith, Hope & Charity – The Interpal Story
with Ibrahim Hewitt & Abu Muhammed Aqil
Please join us to know more about the story of Interpal and get your signed copy by Ibrahim Hewitt
Working on the issue of Palestine brings about much scrutiny and criticism for organisations and individuals. Interpal has faced accusations, attempts to hinder its work and detractors since the charity began in 1994 and this book tells the true story of the charity and its efforts to alleviate the suffering of Palestinians. Read more about the book: https://www.interpal.org/20190301-book-release-the-interpal-story/
Ibrahim Hewitt
Ibrahim is the Senior Editor of Middle East Monitor and an education consultant/school inspector, as well as the founder and Managing Trustee of Al-Aqsa School in Leicester. He embraced Islam from a nominally Christian background in 1981. Honorary positions held include Chairman of the Trustees of the Palestinian Relief & Development Fund (Interpal) since 1997. Ibrahim was also an Assistant Secretary-General of the Muslim Council of Britain, 2004-6.
In 2005 he was awarded the Alia Izetbekovic Prize for Citizenship at the Muslim News Awards for Excellence in London. On a visit to Gaza in August 2011, Ibrahim was awarded an Honorary Doctorate by the Islamic University of Gaza for his "support for the people of Palestine and the development of the university".
Abu Muhammed Aqil
Majdi Aqil originates from Bayt Daraas, a village that became occupied during the 1948 Nakba and grew up in Khan Younis refugee camp in Gaza, Palestine. He graduated from Al Azhar University in Cairo, Egypt with a BSc (Hons) in Biological Sciences and has an MSc in Water Pollution from the University of Manchester. He has also worked as a Lecturer in the Islamic University of Gaza.
He currently works at Interpal as the Manager of Development Resources in the North and is the Imam in several mosques in the North West region of the UK. He is also the Editor of a book called "The Message of Muslims in The west".
How will you
Change Lives in Palestine?
Stand with Palestine?
Volunteer for Palestine?
Act for Palestine?