Inspire, be inspired – BRADFORD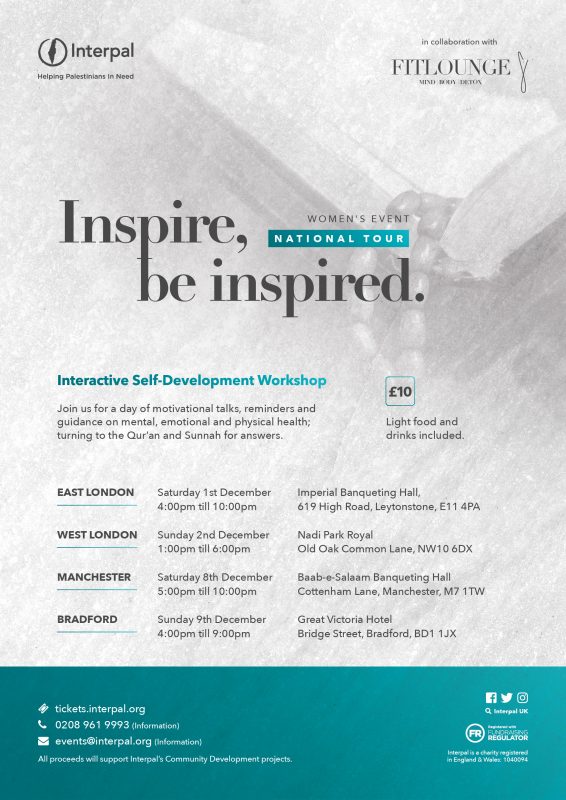 Date/Time
9
th
December 2018 - 9
th
December 2018
4:00 pm - 9:00 pm
Venue
Great Victoria Hotel
Bridge St
Bradford , BD1 1JX

Organised by: Interpal Bradford
NATIONAL TOUR
in collaboration with FITLounge,  Mind Body Detox
Interactive self-development workshop.
Join us for a one day seminar of motivational talks, reminders and guidance on mental, emotional and physical health; turning to the Qur'an and Sunnah for answers. A women's only event, with key and current topics of discussion, affecting our society today. With first hand, relatable accounts, reflections and experiences, Aisha and Asma Sheikh seek to inspire you through their personal journeys and learnings from our beautiful religion – Islam.
Offering practical and doable tips and advice, with realistic, bite-size goals, to bring about positive changes, this event is about taking ownership of our own well-being.
For further info contact events@interpal.org or call 0208 961 9993
Tickets £10. Purchase at:  tickets.interpal.org
Light food and drinks included. 100% Proceeds go towards Interpal's community development projects
Other Cities:
How will you
Change Lives in Palestine?
Stand with Palestine?
Volunteer for Palestine?
Act for Palestine?