Winter Walk for Palestine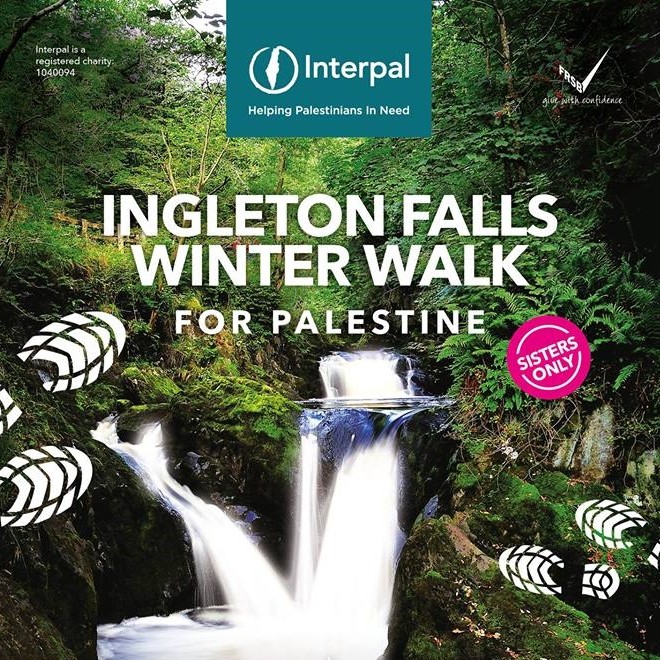 Date/Time
25
th
February 2017 - 25
th
February 2017
All Day
Venue
Interpal Bradford
922 Leeds Road
Bradford , BD3 8EZ

Organised by: Interpal Bradford
Interpal Presents…
SISTERS WINTER WALK!
Looking for a challenging way to raise money for Palestinians this Winter?
Why not register for this adventurous walk Ingleton Falls, Yorkshire Dales, giving you the unique opportunity to enjoy sisterhood whilst enjoying the breath-taking scenery!
Registration Fee: £15
Fundraising Target: £50
Time: 8am
Date: Saturday 25th February 2016
Location: Ingleton Falls, Yorkshire Dales
To register or for more info, contact:
Bradford Registration
Interpal office: 922 Leeds Road, Bradford, BD3 8EZ
Call: 01274 656985
Email: a.afzal@interpal.org
Leicester Registration
Interpal Office: 196 Melbourne Road, Leicester, LE2 0DT
Call: 0116 262 2422
Email: m.ahmed@interpal.org
Please note, transport is only available from the above locations. Any others will have to make their own way.
How will you
Change Lives in Palestine?
Cheque on Palestine?
Stand with Palestine?
Bank on Palestine?