0 supporters have taken action so far
We still want another 0 Supporters
Nakba70
The Palestinian refugee crisis is now the longest-running refugee crisis in the world today.
In 1948, over 750,000 Palestinian men, women and children were expelled from their homes and forced to live as refugees in the West Bank, the Gaza Strip, Lebanon, Jordan and Syria.
70 years later, there are now 5 generations of Palestinian refugees enduring displacement, poverty and refugeehood.
With no end to their suffering in sight, now is the time to take action.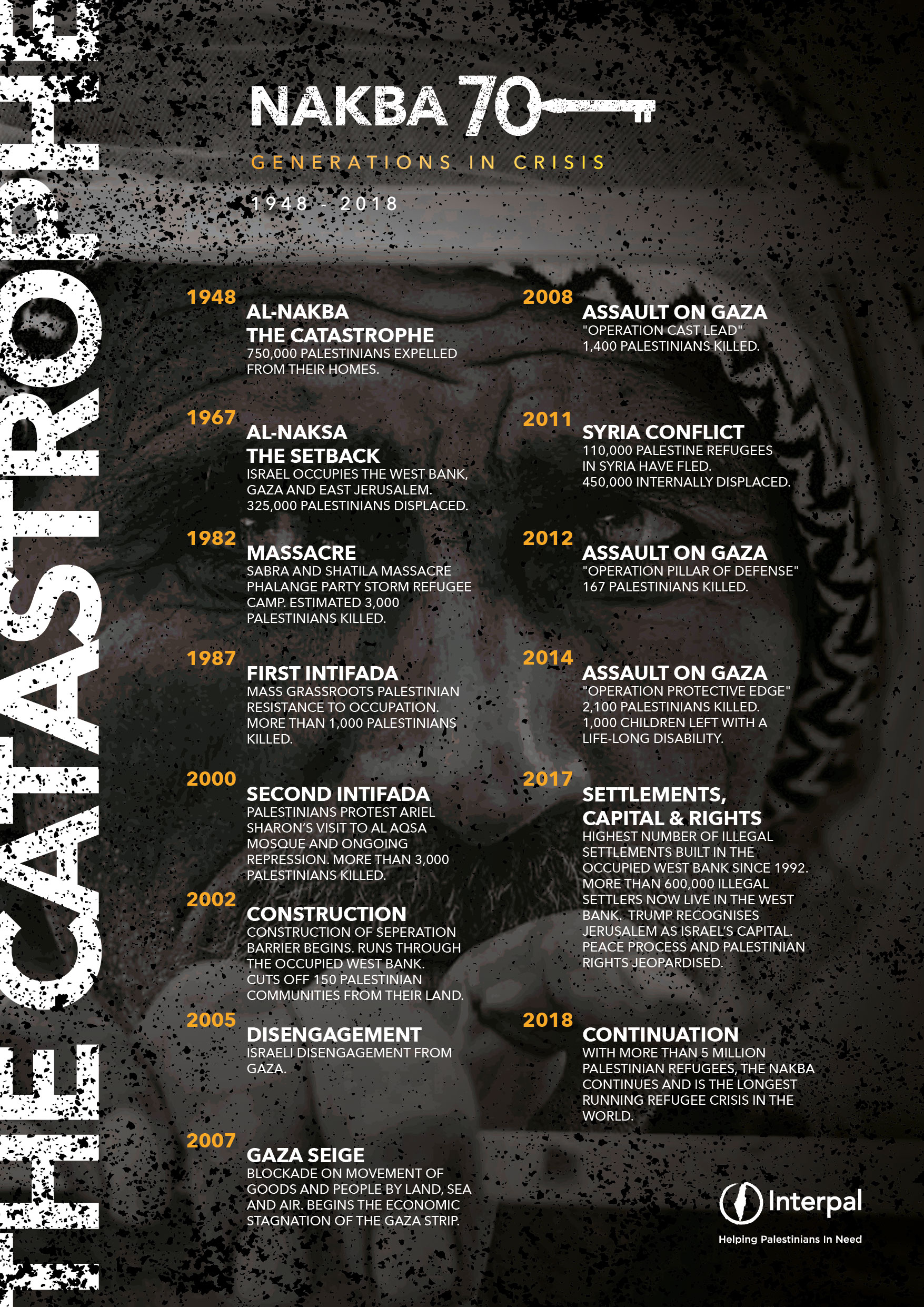 Palestinian Refugees in Lebanon are forced to live in squalid conditions with poor water infrastructure and electrical networks. 0% of Palestinian refugees in Lebanon are living in poverty.

0% of people in Gaza are reliant on international humanitarian aid to survive.

Palestinian refugees in Lebanon are denied basic civil, political and economic rights, and have been banned from over 0 professions, whilst 0% of Palestinian refugees in Jordan live below the poverty line.

Refugee camps in the West Bank are amongst the most densely-populated environments in the world.

A doctor in a refugee camp health clinic usually sees, on average, 0 patients per day.
In the lead up to Nakba Day on May 15, let's come together and show the world that this is not okay.
Take Action
We are calling on all our supporters to urge Boris Johnson MP, Secretary of State for Foreign Affairs, to do more to protect the rights of Palestinian refugees.
0 supporters have taken action already. What are you waiting for?
Write to Boris Johnson MP, Secretary of State for Foreign Affairs
Donate Now
For 24 years, Interpal has been working to ensure that Palestinian refugees have access to educational, medical and developmental aid, as well as providing humanitarian assistance.
Donating to our Nakba Campaign can help ensure thousands of Palestinian families have access to basic, yet life-changing, services.
To learn more about our Water Aid packages, give us a call on 020 8961 9993 or visit interpal.org.