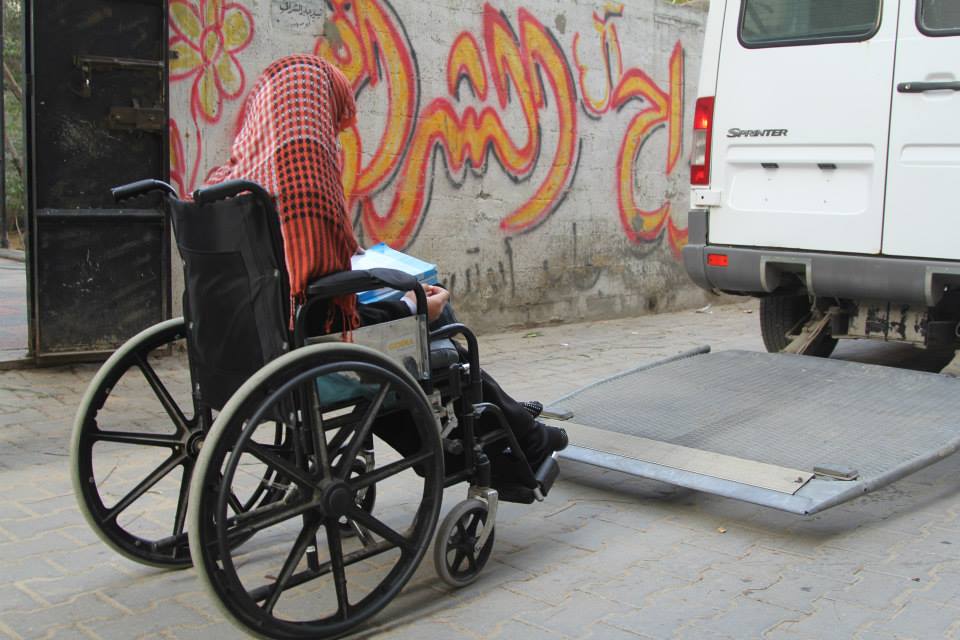 Running since 2012, this project focuses on addressing the specific transport needs that people with disabilities face, and has shown itself as vital to the lives of many residents of the Gaza Strip. The service provided, increases the accessibility of education and rehabilitation services across the Gaza Strip, and people have come to rely upon the services provided. The project directly helps around 230 people, including university students and employees who are unable to transport themselves to and from their commitments.
Why is this project so important?
Following the hostilities between Gaza and Israel, notably last in 2014 with Operation Protective Edge, the number of persons in Gaza with disabilities has increased. Estimates now suggest that there are between 100,000 and 200,000 people in the Strip who need specialised care and support. Many of these people suffer from a severe lack of psychological and medical care, which in turn weakens their rehabilitation and reintegration back into their communities. Furthermore, with public services being cut including public transport, this continues to be an area for focus that is commonly overlooked.
Who does this project help?
We work with beneficiaries across the Gaza Strip, in the areas of Rafah, Khanyounis, Gaza City and the North. It helps people with a wide range of disabilities from Autism (22 people) to those with Cerebral Palsy (18 people). Of the people we work with on a daily basis, nine suffer from total visual impairment with 58 suffering from partial visual impairment of varying degrees of severity. 52 are physically disabled whilst 71 are deaf. As is clear, there is great diversity within the beneficiaries of this project.
How does this project help?
This project helps its beneficiaries most simply, by providing transportation to and from study or workplaces. By improving the level of transportation services available in Gaza for persons with disabilities, the project re-opens a world of opportunities and gives them back their independence. The boost in self-confidence that this project gives its beneficiaries helps prevent depression that is common in people who have no specialised support.
How does this project help in the long run?
Not only does this project help the 230 direct beneficiaries, it also creates jobs for unemployed drivers. Equally, this project also greatly benefits the families of those with disabilities by taking on some of the duty of care and encouraging and enabling life as normal. A third indirect beneficiary is the local community: from the economic benefits of job creation to ensuring youth do not miss out on an education, the benefits of this project as time goes on are endless. Furthermore, this project helps to alleviate the deterioration of beneficiaries' psychological health.
How will you
Change Lives in Palestine?
Cheque on Palestine?
Stand with Palestine?
Bank on Palestine?