The greatest gift: helping children build their futures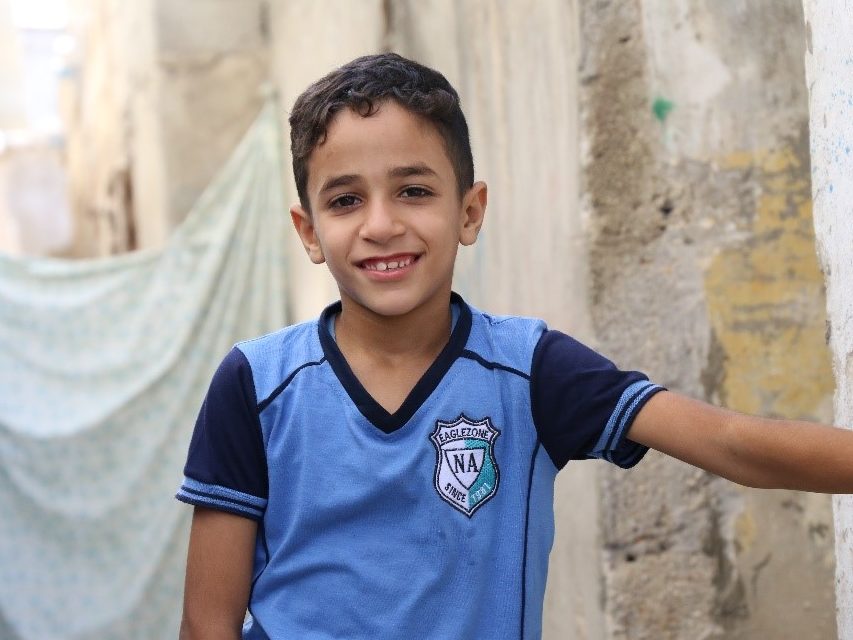 There's an old proverb that says it takes a village to raise a child; that it takes mothers, grandmothers, aunts and neighbours to come together, share their knowledge, and play a role in a child's development. Through one-to-one sponsorships, the support given to a Palestinian child can extend as far as the UK, where donors are able to play a role in a child's health, wellbeing and educational development, as well as helping them have a little fun during the festive seasons.
One such child is Issa, who is 8 years old and lives in the occupied Gaza Strip. His favourite TV programme is "Tom and Jerry" and he wants to be an Arabic teacher like his father when he grows up. His father passed away from kidney failure four years ago, and his mother has struggled to support the family ever since.
Parveen Tanvir from London began sponsoring Issa in 2016. We recently spoke to Parveen and her daughter Sadia, who is also a sponsor, about their sponsorship journey. We also spoke to Issa's mother about hers.
Issa's mother
"When Parveen began sponsoring Issa two years ago, our lives immediately changed for the better. She has helped me to provide for all of Issa's needs; I can buy him food and drink now, I even bought him a bicycle one day, he'd wanted one for a while.
I feel as though Parveen is an angel looking after my family, especially Issa. She sends us aid during the summer, winter aid when it gets cold and helps us during Eid. She always helps us and she has never forgotten us at all. Most importantly, she has helped my child work towards achieving his ambitions in life. May Allah bless her, and may Allah increase her hasanat".
Parveen and Sadia
"It is always a tearful experience when a child that we are sponsoring writes to us, it helps us feel connected to them. The duas they give you touches your heart.
When you see awful reports about Palestine, it makes you feel that little bit better to say that you are actually doing something to actively help. When you see that a child you have sponsored has graduated from school or is now in university, it is so satisfying to know that you have played a part in that process.
Our biggest hope for the children of Palestine is for them to receive their freedom, and for them to be prepared for their freedom by gaining an education to help them make informed decisions about their country.
Interpal is the only charity that we can trust. It is so satisfying to know that our sponsorship is not just helping individuals, it is helping families too."
Interpal's Sponsorship Programme is our largest on-going humanitarian project, supporting over 6000 Palestinian needy, orphaned and disabled children every year. Our Sponsorship Programme provides a vital, regular financial lifeline to some of the most vulnerable families in the occupied Palestinian territories and refugee camps in Jordan and Lebanon. By working closely with families and communities, and with the help of generous donors such as Parveen and Sadia, we are able to ensure that Palestinian children are given the support they need to the build their own futures with confidence.
Calculate your Zakat
Confused about how to calculate your Zakat? Try our simple-to-use calculator