Surviving kidney failure under siege: the story of six-year-old Odai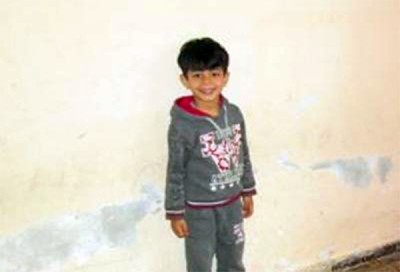 Patients diagnosed with kidney failure in Gaza face uncertain futures. The ten year siege restricts the import of medical supplies, so regular treatment, that is crucial to the survival of patients, is almost always impossible to receive. Hospitals are at breaking point, and the chances of receiving transplant surgery quickly enough are low for many patients in critical conditions. With the fuel crisis causing power outages in hospitals every day, even the regular use of dialysis machines isn't guaranteed for patients who rely on them to stay alive.
For the mother of six-year-old Odai, who was diagnosed with kidney failure earlier this year, finding treatment to save his life has been a harrowing experience.
When our Gaza Field Office met Odai for the first time, he was in a critical condition and in desperate need of surgery. With no real chance of undergoing surgery in Gaza, his mother knew that the only option she had to keep her son alive was to find treatment for him outside of the Gaza Strip.
Applying for an exit permit
This is never an easy task for those trapped inside Gaza. The likelihood of being approved to exit Gaza for medical reasons is worryingly low, with approval rates falling as low as 44 percent in 2016.
Added to this is the financial burden that's involved with the costs of travel and treatment. With the ongoing siege pushing poverty levels up in the Gaza Strip (more than 80% of the population are reliant on international aid to survive) many are unable to afford the costs at all.
The estimated cost for Odai to have surgery in Jordan was about £1,600. With Odai's life hanging in the balance, his mother desperately tried to find the funds to pay for his treatment while awaiting the outcome of their referral request.
A helping hand
It was at this point that Interpal's Sponsorship Team in London heard about Odai's situation. Odai's health was quickly deteriorating and without the money to pay for surgery, his future was uncertain.
The team quickly began to fundraise for Odai, and thanks to the generous support of donors, £5000 was raised to help Odai's mother take her son to Jordan.
Exit denied
Now that she had the financial means to help him, Odai's mother could finally feel hopeful for her son. In late August, however, our field office staff informed us that Odai and his mother were refused permission to travel to Jordan because their passports were soon to expire.
It would take another three weeks for Odai's mother to renew her passport and apply once again to travel. In the meantime, Odai continued to suffer. Some of the money raised by our donors was used for essential medications and food to keep Odai's condition as stable as possible.
Sadly, in mid-September, we were informed that Odai and his mother were once again refused permission to travel to Jordan.
One last hope
The trials that Odai's mother has been through to simply find treatment for her son is an all too common occurrence in the Gaza Strip. Access to healthcare is a human right that is frequently denied to Palestinians and the ongoing blockade continues to put vulnerable lives at risk.
Odai's mother has one last hope: Odai has been accepted for treatment at Al-Najah National University Hospital in the West Bank, with his check in date at the end of October.
He continues to take the medication provided by the support of our donors to keep him stable until his surgery takes place. His mother has conveyed her thanks to everyone who has supported her and her son during this unbearably difficult time.
A thank you
We will continue to keep you posted about Odai's condition, and the outcome of his surgery. We would like to thank you for providing a lifeline to Odai, and thousands more Palestinian children in the occupied Palestinian territories who are in urgent need of support.
For more information on our medical aid projects, give us a call on  020 8961 9993 or visit www.interpal.org.
Calculate your Zakat
Confused about how to calculate your Zakat? Try our simple-to-use calculator